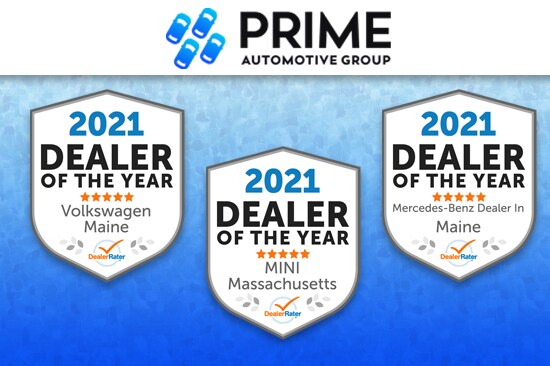 Prime Automotive is proud to announce that three of our dealerships have been named Dealer of the Year by DealerRater. The first is South Shore MINI in Massachusetts. The second is Prime Motor Cars, and the third is Prime Volkswagen, both located in Maine. These three locations were also awarded the Customer Satisfaction Award. We want to take this time to thank each and every one of our customers. Without our team and the people who know and love us, none of this would be possible. Thank you for your loyalty over the years.
Below is more information about the Dealer of the Year Award.
Dealer of the Year Awards
DealerRater's Dealer of the Year Award Program recognizes a select number of car dealerships throughout the United States and Canada for outstanding customer satisfaction as expressed through customers' online reviews posted on DealerRater.
The Dealer of the Year Awards will be given to car dealerships that have the highest PowerScore™ in their brand category, both at national and state/provincial levels.
Each dealership's PowerScore will be calculated using a Bayesian algorithm that considers the dealership's average DealerRater star rating as well as the total number of reviews written about the dealership during that calendar year.
To be considered for the Dealer of the Year Awards, a dealership must have:
Minimum of 25 reviews on DealerRater for the calendar year
Average minimum star rating of 4.0 on DealerRater, with 5.0 as the highest possible rating
At least one review on DealerRater per quarter during the calendar year
Must not have been blacklisted within the calendar year
?©DealerRater 2021